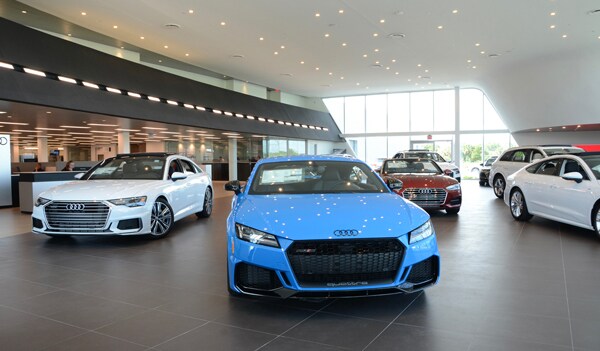 Hassle-Free Service with Audi Melbourne
To help your Audi last a lifetime and maintain your warranty, you'll need regular service and repairs. At Audi Melbourne, we understand that your time is valuable. Because we want to make it easier than ever to own an Audi, we offer convenient door-to-door service for all service and repairs. Whether you need a new tire or major transmission work, our pickup will help make the experience as hassle-free as possible.
When it is time for your Audi to be serviced, simply give us a call and we will pick up your vehicle. After we have completed the work, we'll drop your automobile off. We'll also lend you a complimentary late-model Audi while you are waiting for your car to be serviced.
It is easy to arrange for our hassle-free pick-up service. Just specify the location where we can pick up your car and we will arrange everything else. Throughout the time that we are servicing your vehicle, we'll keep you informed about the progress of your repair, providing you with convenient and timely updates. After we are done servicing your Audi, we'll deliver it back to you—serviced and ready for your next journey.
Service At Your Door
To arrange door-to-door service, all you need to do is:
Schedule a day and time for your service appointment.
Choose home or office pickup.
We will pick up your vehicle for your service—within a 50-mile radius—and drop off a loaner.
We'll drop off your automobile once service is complete and we'll pick up the loaner.
Servicing your vehicle doesn't get any easier thanks to Audi Melbourne's convenient service pickup. You don't have to worry about not having access to a vehicle while yours is being serviced. We do all of the legwork—so that you can enjoy owning your Audi to the fullest. A friendly member of our service team will pick up your car or truck when it is time for service. Our Audi service technicians will repair your vehicle to the manufacturer's specifications using original equipment. When we're done, we'll drop your vehicle back off to you within a 50-mile radius of our dealership. Our premier service pickup is available throughout the entire Brevard county area, including Vero Beach, Rockledge, Viera and Merritt Island.
Service Hours
Monday

Closed

Tuesday

7:30 AM - 5:30 PM

Wednesday

7:30 AM - 5:30 PM

Thursday

7:30 AM - 5:30 PM

Friday

7:30 AM - 5:30 PM

Saturday

8:00 AM - 2:00 PM

Sunday

Closed
Make an Inquiry
* Indicates a required field